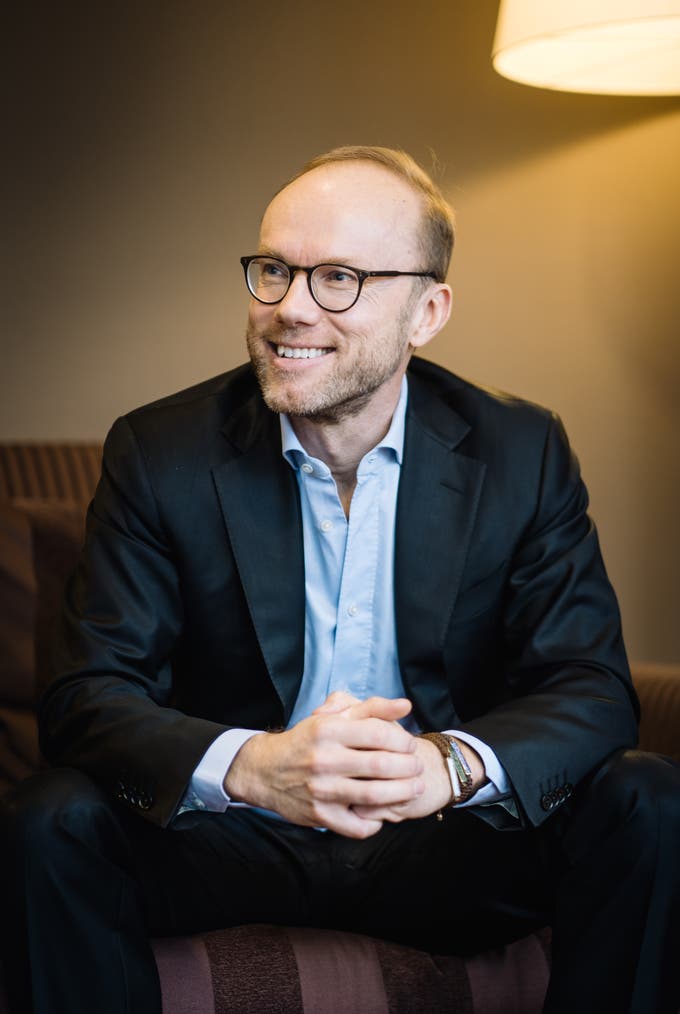 «ABB Will be Able to Create Tremendous Growth»
Lars Förberg, Managing Partner of Cevian Capital, in an exclusive in-depth conversation: He shares insights into his strategy and his thoughts on ABB, Panalpina, Nordea and ThyssenKrupp.
Lars Förberg moves the markets. He is Co-Founder and Managing Partner of Cevian Capital, the largest activist investment fund in Europe. When Cevian announces a new equity position, the share price of the company in question usually rises. Earlier this year, that was the case with Nordic bank Nordea and Irish cement producer CRH.
Lars Förberg
Lars Förberg is Co-Founder and Managing Partner of Cevian Capital. He has spent almost thirty years in the investment business. During the Nineties, he worked for the private equity group Nordic Capital and the industrial holding Custos. In 2002, he founded Cevian together with his colleague Christer Gardell. Förberg has studied business and economics in Stockholm and at the University of Michigan. He lives near Zurich.
Alles anzeigen
In Switzerland, Cevian has pushed for significant changes within the industrial conglomerate ABB and the logistics group Panalpina. Even Germany's ThyssenKrupp has bowed unter the pressure of the Swedes and has agreed to spin-off its crown jewel, the elevator business.
Cevian was founded in 2002 and currently manages about 13 billion euros of institutional money from its offices in Stockholm, Zurich and London. The portfolio currently consists of 15 holdings in Europe.
Lars Förberg hardly ever grants interviews. And when he does talk, he carefully measures every word he says. In an exclusive in-depth conversation with The Market, he talks about the image of activist investors, his strategy, and his thoughts on ABB, Panalpina and ThyssenKrupp. Plus, he explains why Cevian has taken a stake in Nordea.
Mr. Förberg, a German newspaper has called you the «Butcher from Stockholm». What do you make of the criticism that you carve up and sell companies?
What we do is we target companies that have a good, sound core but are underperforming to where they could and should be compared to their competitors both in terms of growth and profitability. We come in as an active, engaged owner, we invest with the intent of working to improve the companies for the benefit of all shareholders and stakeholders.
Often that ends in carving up and selling the company or parts of it.
It often involves changing the strategy or the structure of a company, and making changes to the board or the management. If a company is not doing well, it needs to change. The question is what you need to change. Often, the problem is that companies have gone away from their core business, started doing things they're not really good at. They become unfocused, the complexity and costs go up, and they are losing their competitive game. Therefore many times a first step for us is to make a company less complicated.
Why do activists have such a bad image?
I don't agree with your assessment of a bad image. It depends on how you define activists. An engaged shareholder is better than an unengaged one. We are long-term shareholders, and that's better than short-term shareholders. Of course: When we enter a company and want to make a change, there are always people who don't want to change. They try to avoid a constructive discussion by going to the media and saying things like the butchers from Stockholm.
Part of the image of activists is formed by the behaviour of some American firms. Are American activists more aggressive?
In general, yes. One reason is culture. Another one is the fact that the governance environment for active shareholders is better in Europe than in the US. In Europe by and large we have a real shareholder democracy. Thirdly, many US activists come from the hedge fund or investment banking side, whereas we more come from the private equity and industry side. So we have a longer perspective, we can address the real issues of the company, structure and strategy, and contrary to some other activists, we are not asking ourselves how we can drive up the share price in the short term.
Your holdings are mainly in the Nordics, Switzerland, Germany and the UK. Where do you find the best governance environment?
In Switzerland, Scandinavia and the UK, governance structures work very well. The outlier is Germany, with its two-tier supervisory board and management board system. For a long time supervisory board members in Germany have hidden behind the thinking that they should just supervise rather than proactively making sure that the company is doing well. There are boards where political games dominate the agenda. Many supervisory board members in Germany accept underperformance and avoid taking responsibility themselves.
You look for underperforming, undervalued companies. How many potential targets do you have in your pipeline right now?
We have plenty. We track hundreds of companies on a continuous basis, and typically when we make an investment we've tracked the company over many years. ABB, for example, was the first company we looked at when we started Cevian in 2002. We tracked the company for more than 13 years before we went in.
Early this year you announced two new holdings in the Nordic Bank Nordea and the Irish cement producer CRH. Have you bought anything new since then?
Yes, we've entered a new company but haven't disclosed it publicly yet.
ABB is your second largest holding, a position you first disclosed in 2015. Are you happy with the progress you see in terms of the reorganization and in terms of the sale of the power grid business?
Yes. The key issue for ABB in the past has been that it became too complex, too clunky, and too inwardly focused. The reorganization that was announced in December, getting rid of the old matrix structure, creating four independent businesses under the roof of ABB, is a very important step in getting to a more agile, entrepreneurial company that will be able to create tremendous growth. We are happy with that decision.
In terms of timing it was surprising that CEO Ulrich Spiesshofer had to step down in late April. Why now?
I think it's quite a natural timing. He had been CEO for some years, throughout his leadership he has made a number of changes to the company and lastly announced in December both the reorganization and the sale of the power grid division to Hitachi. A new chapter starts for the company, and it's natural then to think about who should be the leader going forward.
David Samra of Artisan Partners is on the record saying ABB should do a further split between the electrification business and the automatization businesses. Do you agree?
We support the strategy that ABB is pursuing today. The important part of that strategy was changing the organization, making it more decentralized and entrepreneurial, and selling the power grid business. We wanted to make the group less complicated, more entrepreneurial, more market focused and we wanted to divest the power grid business. This is what we said when we made our investment, and this is what we say now.
The money ABB receives from the sale of the power grid division will be paid out to shareholders. Why? Aren't there good investment opportunities out there?
One should remember that ABB has made two large acquisitions recently, the electrification products business of GE, and B&R in automation. These have been complementary, synergetic acquisitions, and it's important that ABB can integrate them in the right way, before the company can take any other step. Therefore ABB has stated the money from the power grid transaction is going to be returned to shareholders, primarily though buybacks. If ABB at another point in time wants to make further acquisitions, it will have financial resources through the normal cash-flow generation of the four remaining businesses.
All these things have been happening in the past months, yet the share price of ABB is unchanged at 20 Fr. What's holding it back?
I can't talk about the share price.
A few years ago you said the intrinsic value of ABB is 35 Fr. per share.
Yes, I said that before I joined the board of ABB. As a board member I cannot talk about the share price.
The other Swiss company that you were invested in was Panalpina. You were a shareholder for more than 8 years. Now Panalpina is being taken over by DSV. What are your learnings from this investment?
If you go into a company that is underperforming, and you change a lot of things to get it from being good to being great, it can take a lot of time and for sure needs hard work. The solution with DSV is great. DSV Panalpina will create one of the best companies in the logistics industry.
Will it be on a level with Kühne+Nagel?
Absolutely.
From my perspective I would say you did not manage to take Panalpina from being good to being great. In the end, the best thing to do was to sell it to DSV. Panalpina itself did not manage to make that transition.
I agree. There were a number of things that were improved in the company, though. When we got in, Panalpina was in a crisis mode. One has to remember that. The company got from being in a crisis mode to stabilization and then becoming better. But it continued to underperform versus its key competitors both in terms of growth and profitability. We were not happy with that. So there were two options: To force much more radical changes within Panalpina, or a combination with DSV. The combination is the right path. We combine Panalpina's fantastic market position in air freight with a competitor that has shown the ability to convert revenues into bottom line profit in a way that Panalpina was not able to do.
Your stake in the future DSV Panalpina will have a value of about 650 Mio. $. What will you do with those shares?
We will get the shares when the transaction goes through in the second half of this year. It's a question of the future what we will do with them.
Cevian has held a seat on the board of Panalpina for years, engaging the company behind the scenes. But things really only started to change when you publicly said that the chairman has lost your trust.
You're right. Of course there were a lot of things happening before that. As I said the company came from crisis to stabilization to improvement. But it was not sufficient. We were frustrated by the lack of real change. So, yes, we had to take the discussion into the public domain. The same thing we had to do in ThyssenKrupp.
ThyssenKrupp is the third largest position in your fund. And for a long time it's been a horrible investment. What went wrong?
Any investment can look horrible at some point in time. For us, the importance is not to have a high share price as fast as possible. Our objective is to increase the value of the company, which will over time be reflected in the share price. In the case of ThyssenKrupp, we were not at all happy with the progress. The company continued to be at half the profitability of its competitors, with practically no growth. The right measures were obstructed by power games and political games in the board. For us that is unacceptable. Now there has been a shift of a number of people both in management and in board to people who think in an industrially sound way.
ThyssenKrupp has scrapped the plans to split in two and bring the steel business into a merger with Tata. Instead, it will create a holding structure, give its divisions more autonomy and seek a listing of its elevator business. Is that the right way to go forward?
Yes, it is. We urgently need a fundamentally new direction. There is no other way if you want to get the businesses back to growth.
Some analysts say the elevator business itself is worth more than the current share price of ThyssenKrupp. Do you agree?
Much more. Which shows how badly the other businesses are performing. Urgent time for a fundamental change.
The elevator business will probably rather soon be a takeover target.
I know there have been such rumours, but I don't want to speculate.
Do you ever accept defeat? Say an investment was wrong, let's get out?
Theoretically we could. But so far, we never had to.
Your other holding in Germany, Bilfinger, is going nowhere. So both your investments in Germany must be a pain in your neck.
Well, that's unfair to Bilfinger as we have seen progress. We will continue to work for the right change, and we think they will be become great companies. There are a lot of things that need to happen for a company to become better. Sometimes you meet resistance, you have to break through that resistance. And that has nothing to do with Germany per se. Look at our investment with Volvo in Sweden: It was a lot of work, looked difficult for a while, but it paid off in the end, after 11 years of engagement.
Volvo was taken over by a Chinese buyer. Is that what will happen to ThyssenKrupp?
No, that's not what will happen. Yes, there was a Chinese buyer for our stake in Volvo, but it's still an independent company, and the important thing is that Volvo came from being one of the laggards to being one of the best in the industry. It's a goal that should be very easy to rally around for the management, board, employees, stakeholders: to become a better performing company. Who would want to have a company that is not performing as well as its competitors? That's what we say in ThyssenKrupp. The problem is that there has been resistance in accepting that the company is not doing well. So much resistance to change. Not for industrial reasons, but for power and political reasons. Such behavior is wrong, and bad for all stakeholders.
What will ThyssenKrupp look like three years from now?
It's a thriving company again, run completely based on industrial logic rather than what's good for a few people at the top. It's a company that's proud of its past, but that doesn't let that past hinder change. And I think it will have embraced its roots in steel rather than trying to escape them.
Your largest holding is Ericsson. Has had a good run, stock price has doubled in 18 months. Is Ericsson a winner from the Huawei fight?
The reason why Ericsson is a winner is that Ericsson has taken the right decisions regarding strategy and structure in the past years. Ericsson a couple of years ago had the wrong strategy and the wrong execution. There is now a new management team, a new board, a new strategy. That is paying off handsomely through better growth and earnings.
And yet, you've sold stocks worth about 200 Mio. $ lately. Why?
The reason is that Ericsson has been performing so well that it became a very large portion of our portfolio. We trimmed purely for adjustment reasons in the portfolio weighting. The 200 Mio. $ have already been invested somewhere else.
Of the two new positions that you recently made public: What's your case with CRH?
We're having a constructive private discussion with the company about that. I can't say more.
Banks are usually a tough field for activists. Why Nordea, and why now?
Why do you say banks are tough for activists? We have been successfully invested in a number of financial services companies: Old Mutual, Swedbank, Danske Bank, Munich Re. I think there is a lot of opportunity in financial services for activism.
They are indeed heavily underperforming.
Yes, and Nordea is also underperforming. It has in the past performed alongside the rest of the Nordic banks in terms of profitability, but it has lost over the past couple of years. The valuation has dropped as a consequence of that. We are certain that Nordea can at the minimum come back to its old profitability and that of its competitors. That's the background of that investment.
It has been entangled in the Russian money laundering scandals. That's arguably part of the reason why the stock price has suffered. Is the worst of that story through?
Nordea has been less entangled than some of its competitors. So I don't agree that this is the main reason for its underperformance. The return on equity of the bank has come down over the last couple of years for other reasons. These are reasons that can be addressed.
Usually your holdings are 10% plus. Right now in Nordea you are below 3%. Am I right to assume that you will increase that holding?
We don't comment on buying and selling decisions. But we have in the past operated with stakes of 2 or 3% in a company, up to short of 30% of a company. The ownership percentage in the case of Nordea is not so important. We have a very good relationship and trust in the largest owner of Nordea, Sampo, and with the other key owners. So we don't need to get a higher stake in order to gain influence.
Some say there needs to be a consolidation in the European banking sector. Do you agree with that?
That's too broad of a comment. It really depends on the geographical market. Largely, when you take the banking industry, these are typically not pan-European markets, they differ from country to country. The competitive dynamics, industry dynamics are more on a country basis.
Is Nordea a consolidation case for you?
No.
The reason I said that banks are tough for activists: We had a couple of cases in Switzerland where activists have bit their teeth with Credit Suisse and UBS.
Yes, but those were activists that have a completely different strategy and style than us.
Are you specifically looking at Credit Suisse right now?
No. Everything we look at, we think about what is the likelihood of achieving the goals we want to in terms of the complexity of change, in terms of the influence situation, and so on. Sometimes in banks, it's difficult to assess the risks, and if the risks might be too high, we would not invest.