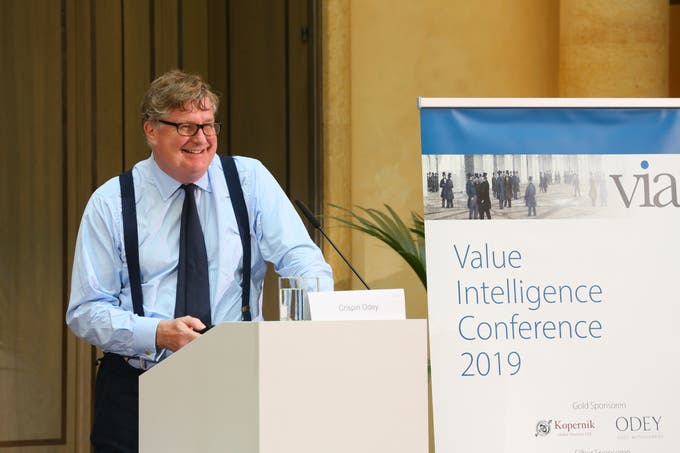 «Investors Have Given up on the Cycle»
Crispin Odey, founder of Odey Asset Management, sees the biggest excesses in private equity. He explains why equities are in a bear market and why he does not invest in Alphabet or Facebook.
Crispin Odey
Crispin Odey established Odey Asset Management in 1991 and today heads its investment management. He became famous during the financial crisis when his flagship fund returned more than 100%. He applies an industrialist's approach to investing and is looking for out of favour but fundamentally strong companies. The firm currently has $4,9bn under management across European, global, long-short and long-only strategies. Before founding Odey Asset Management, he worked for Baring Asset Management and Framlington Fund Managers. Crispin graduated from Christ Church College, Oxford, in 1980 with a degree in history and economics. He is married with three children.
Alles anzeigen
Crispin Odey is known for his out of the box views. The founder of Odey Asset Management – one of the oldest hedge funds in Europe – is currently net short equities by 35%. He is convinced they are in a bear market. «This is not 2016», he says. Back then, the Federal Reserve paused its tightening cycle and China launched a stimulus program. Both lifted the world economy and stock markets out of a soft patch.
«We are later in the cycle, unemployment is lower, valuations are far higher, and the market rebound has been much faster», says Odey. In addition, central bank balance sheets are not growing any longer.
In an in-depth conversation with The Market, he explains why the Swiss private equity manager Partners Group is an «interesting short idea» and why stocks like Alphabet or Facebook will come under pressure soon. The Market met Crispin Odey at the Value Intelligence Conference in Munich.
Mr Odey, how would you describe the current investment environment?Investors have given up on the cycle. As a result, risk premia have disappeared across most asset classes. Because companies have added huge amounts of debt, US equities are much more expensive than in 2000 on an enterprise value basis.
Where do you see the biggest excesses?
In private equity. The private equity world has realised they don't need to sell into public markets – they just sell to each other with massive leverage. Valuations are 20 times Ebitda across the board. Most family offices are between 30 and 40% into private equity, and most of them have got an additional 20% in high yield which is nothing more than the guy who lends the money to private equity.
Is there a way to short private equity? There's a company in Switzerland called Partners Group.
That's an interesting short. We once managed to sell a business which was not very valuable, and they levered it 16 times Ebitda. I asked who is this crazy guy who is buying – it was Partners Group.
When is a good time to short a stock like Partners Group?
You have to trade them until they start to break down. When a stock breaks out to new highs, you have to cover your shorts. I first shorted Wirecard at 50 €. I closed it when the stock refused to go down. It went up to 200 € before breaking down. But now, the market is in a bear phase. This allows you to take some risk and see how much a stock like Wirecard is going to fall.
What's the problem with Wirecard?
Wirecard is in a market that governments hate – which is basically gambling, including betting, online gambling and pornography. This is a very difficult place from which to keep operating. And the weird thing is Wirecard doesn't talk like a company that's having to deal with regulatory issues.
What do they do instead?
They always talk like they are a technology company. That's the story the market tells you, but this is not how they make their money. This is quite apart from the accounting discrepancies. That's usually where I find my shorts – that is in businesses where there's a difference between what the CEO is talking about and what I find at the bottom line.
So now is a good time to be short?
If a market is at the top, your odds are not very good being long. You might earn 3% a year over the next ten years, but you could have a big hit before. Everybody is now waiting for the Americans and the Chinese to somehow lift the game again – just like in 2016, when the Federal Reserve stepped back from tightening and China stimulated the economy.
And you don't think that will happen again?
I think the US and China are at war and these people are really annoying each other. That's not the same environment like in 2016. We are later in the cycle, unemployment is lower, valuations are far higher, and the market rebound has been much faster. And this time, the economy is slowing and central bank balance sheets are not growing any longer. The risk is we are moving into a recession.
Doesn't Trump give in when the stock market tanks?
The trouble for him is that this is so much his ticket for winning next year's election. In fact, it is the only policy he has that is universally agreed upon. So he gets the benefit of being the first one to stand up and say the Chinese have been stealing technology.
What do you do on the long side?
In a difficult world in which the macro is all changing, I'm trying to find businesses which are not going to disappear and which are cheap enough to provide an attractive running yield. I look for an earnings yield of roughly 6 to 8% and probably a 3 to 4% dividend yield. In contrast to the short side, I'm looking for very good stories on the top line where the market is refusing to listen.
Do you have an example?
I buy stocks others wouldn't buy, and I love crises. LeoPalace21 is a Japanese real estate company which has built condominiums in a way that it needed to spend 50 bn yen to fix them. The stock has tanked. But going forward, it should be making 20 to 30 bn yen a year in a year and a half's time. Its enterprise value is 45 bn yen.
Some value managers like technology companies like Alphabet and Facebook. What about you?
I'm trying to build a portfolio that doesn't listen to what the last thirty years have been about. I don't want to be in Google – not that this is a bad company, quite to the contrary: they are such a good business that they are very much at risk.
Can you explain that?
California gave rise to all these unicorns because they understood that the law had been changed in terms of what constitutes monopolistic practices thirty years ago. Before that, anybody who sold goods at below the cost price over a long period of time was indulging in beggar thy neighbour policies, whether it was on exports or domestically. They were guilty of monopolistic practices. Therefore your competitors could complain and it would be investigated by the ministry of justice.
And today?
You don't have to worry if you are selling at below cost price, provided the consumer is better off. So every company in California wants to take over the world by charging their customers lower than their cost. They hope their variable costs will fall fast enough so that at some point they might make some profits – followed by supernormal profits because everybody else has disappeared.
This has worked so far.
You are just into that moment where these companies are becoming monopolies. And as they become monopolies, the ministry of justice comes in. They just agreed Apple cannot charge blanket 30% margins on apps. If the market is predicated on the basis Apple can always charge 30% and you find out they can only charge a 10% margin – this is a very different price.
So you worry less about slowing earnings growth than a regulatory response?
There's a history of this – whether it was with the Rockefellers or with AT&T. Or let's take Bayer: Bayer thought by taking over Monsanto they were buying into a cash cow called Roundup – which is Monsanto's glyphosate-based herbicide. Unfortunately, Bayer just found out they bought into a regulatory downturn in which every court decides every prosecutor against Roundup deserves at least 3 mn dollars. In the old days you used to see farmers drinking Roundup to prove it has no side effects.
How do you value that risk?
That's the problem: what kind of multiple do you put on a business which you don't know what level of profit you are going to have? Bayer is now moving to 7 to 8 times earnings because people don't really know how much they are going to be taxed by the courts.