«Financial markets have become junkies for low interest rates»
Thomas Shrager and Robert Wyckoff, Managing Directors of the New York-based investment boutique Tweedy, Browne, talk about the tough times for value investors, what they bought lately and why they like Google, Novartis and Roche.
These are challenging times for value investors. Equites are in a bull market that has lasted for more than ten years, and it's getting ever harder to find attractively valued stocks. Growth is the name of the game, especially in the technology sector.
Tweedy, Browne has been in the business of identifying undervalued securities for almost 100 years, having worked with and for value icons such as Benjamin Graham, Walter Schloss and Warren Buffett.
Today, the firm manages approximately $15,4 billion for individual and institutional investors. Thomas Shrager and Robert Wyckoff, two of the four Managing Directors of Tweedy, Browne, talked to The Market about the need for value investors to be patient, about their latest ideas and their worries that central banks are inflating a new bubble.
They agreed to talk about individual names such as Google, Baidu, Novartis and Roche, but they emphasize that their views on particular securities should not be relied on to make an investment decision and should not be considered a recommendation to buy or sell or an offer for any of the securities referenced.
Mr. Wyckoff, Mr. Shrager, the value approach has underperformed for several years. What do you make of the critique that value investors just don't get it anymore?
Wyckoff: Next year will be the 100th birthday of Tweedy, Browne. We were founded in 1920. Tom and I have started at the firm in 1989 and 1991. This is the third time we hear that value investing is dead. We saw this kind of commentary at the height of the tech bubble in 2000, we saw it again leading up to the bubble in 2007. I can tell you that our international strategy did well from 2007 to 2012, when we outperformed for five or six straight years. But since 2013, when the cork came off the champagne bottle in the markets, it has been more difficult for us to outperform. Bear in mind: During panic attacks, such as in late 2018, we have held up well on a relative basis. Whenever «Mr. Market» gets agitated, he can become a good friend for the patient value investor.
So it's just a matter of time until value investors can shine again?
Wyckoff: I am confident that at some point this cycle will turn. We just don't know when. Last December showed us that there is nervousness in markets. If you think about it, market conditions are almost perfect for risk assets. We've had steady growth, low and negligible inflation, improving employment, and so on. As a result, interest rates have stayed extraordinarily low and asset valuations just kept rising.
What could upset this perfect picture?
Wyckoff: We don't know. But you have seen how dependent markets have become on low interest rates. We've had ten years of monetary largesse, and it's easy to get used to that.
Shrager: Financial markets have become junkies for low interest rates.
Is the Fed inflating a new bubble?
Shrager: You know the saying: It's difficult to make predictions, particularly about the future. So I don't know, but there certainly is that risk.
Wyckoff: There is the idea that we could have a melt-up in valuations. Sure, if interest rates get driven to zero and below, and economic conditions remain somewhat favorable, we could see even higher valuations. The main beneficiaries of this upward move have been large American tech companies and high quality, steady compounders like Nestlé. So yes, we could have a melt-up. We are more than 90% invested today. If there should be a melt-up, we will participate.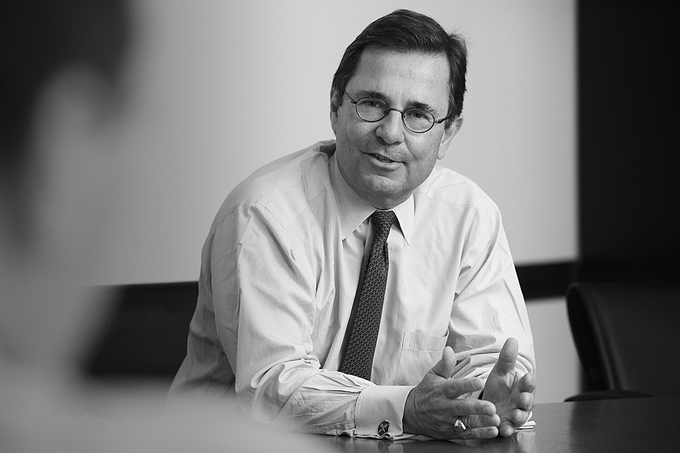 Robert Wyckoff
Robert Q. Wyckoff, Managing Director, has worked for Tweedy, Browne since 1991. He is a member of the firm's Investment and Management Committees. Prior to joining the firm, he held positions with Bessemer Trust, C.J. Lawrence, J&W Seligman, and Stillrock Management. He received a B.A. from Washington & Lee University and a J.D. from the University of Florida School of Law.
Alles anzeigen
High quality stocks like Nestlé, Diageo or Heineken are among the largest positions in your funds. How do you see their valuation?
Wyckoff: Their valuations are full to high. We generally maintain our positions in those companies, because they have continued to steadily compound their underlying intrinsic value. Given their strong balance sheets, we believe they are also well situated to get through difficult times.
Do you see parallels to the «Nifty Fifty» Bubble of the 1960s, when large, high quality stocks were trading at extraordinarily high valuations?
Shrager: There are parallels to that era, and also to the 1900s and the 1920s. At the turn of the last century, we had companies like Standard Oil and the railroads that gained a lot of power. They grew to a size where they attracted the scrutiny of President Roosevelt, who led the charge to break them up. Or in the 1920s, when the likes of General Motors and the radio companies were the new paradigm stocks on Wall Street. Today, there is no doubt that we are in a period of significant disruption in business again. And the successful disruptors will be highly valued for a period of time. But: There are laws of gravity that concern the size of these companies. At one point, politicians start intervening.
Is this happening today in the tech sector?
Shrager: We certainly see the dominant tech companies facing headwinds from Washington. You remember some years back, when Microsoft was being investigated almost to death in the US and Europe? History does not repeat itself, but it often rhymes.
Wyckoff: About the Nifty Fifty era: There were names like IBM, Xerox, Polaroid, who were seen as the most innovative companies, trading at very high valuations. I remember them being referred to as «one decision stocks»: You just had to decide to buy and own them, because it was assumed they would just keep growing. But of course they had their comeuppance in 1974, when valuations were brought down to Earth. Today is not exactly like in the 1960s and 1970s, but trees don't grow to the sky.
You don't completely steer clear of technology stocks. You own Alphabet, the parent company of Google, for example.
Shrager: Yes, we own Google, we own Cisco and a couple of Chinese internet companies, Baidu and Sina.
Why Google?
Wyckoff: We got into Google in 2012, when the valuation was attractive and we were able to buy it at roughly 10 times one year forward earnings before interest, taxes, and amortization. As we examined Google, we viewed it as not a high tech business, but as a fantastic advertising business. We took that opportunity and have held the position ever since. Growth has remained strong until today.
Valuation has risen, too. Google now trades at more than 20 times operating income.
Shrager: Google is still a great advertising and data business. Today's valuation looks high at first sight, but if you exclude their loss-making moonshot projects, it would trade at about 17 times operating income. The company has grown its intrinsic value consistently by approximately 20% per annum, it has had high growth in generated cash flow. One can debate if Google deploys its free cash flow very efficiently, but the individual parts of its business, including some of the moonshots, are really quite valuable. You could make the case that YouTube alone is worth $400bn, or autonomous driving is worth $200bn. If those assumptions are even close to credible, their core search business would be quite reasonably valued.
Wyckoff: We are not buying more shares at these prices, but given the prospects, we like to hold on to Google.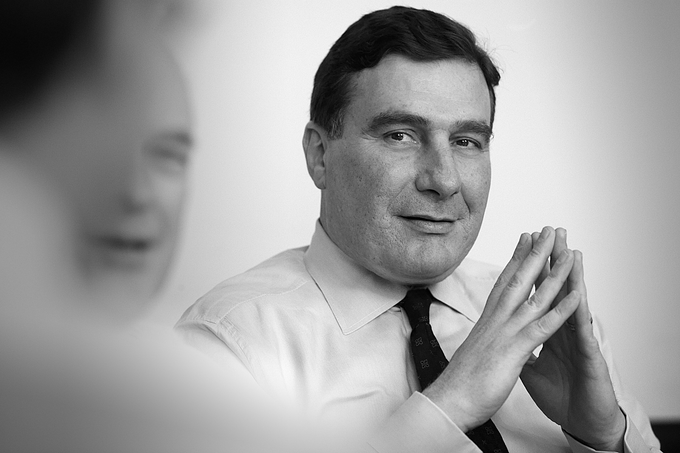 Thomas Shrager
Thomas H. Shrager, Managing Director, has worked for Tweedy, Browne since 1989. He is a member of the firm's Investment Committee and Management Committees. Previously he had worked in mergers and acquisitions at Bear Stearns, and as a consultant for Arthur D. Little. He received a B.A. and a Masters in International Affairs from Columbia University in New York.
Alles anzeigen
Is that the same reasoning you apply to Baidu in China?
Wyckoff: People often refer to Baidu as the Google of China, but that's not exactly accurate. Baidu is quite dominant in search, but it does not have the video business that Google has. We were able to buy Baidu at approximately 10 times operating income after it faced headwinds from the government due to some problematic search results in the healthcare sector. The company had lost its cost discipline, while at the same time growth in advertising in China had slowed. All in all, that created a buying opportunity.
Baidu has a tough time in the stock market. The company is being seen as losing out against Tencent and Alibaba.
Wyckoff: Yes, that's a concern. The real rival it's losing out to of late is Bytedance, which has a growing video and newsfeed business. In America, we really have a duopoly in the internet with Facebook and Google. But in China there are at least four or five players fighting for this market.
Do you still believe in the investment case of Baidu? The stock trades at a 52 week low.
Shrager: We recognize that the core business is not nearly as attractive as it was two years ago. But if you look at the share price today, half the market capitalization is in their cash and equity holdings of other listed companies. The remaining search business is valued at less than 8 times operating income. This is too extreme.
What have you bought lately?
Wyckoff: We recently bought shares in Bolloré, a French holding company with interests in African ports, logistics and music streaming businesses among others. We also bought shares in a Swedish industrial company, but we can't disclose the name yet, as well as shares in CNH Industrial, an Italian producer of farming equipment – that was a very attractive opportunity.
What else?
Wyckoff: Moreover, we purchased shares in a French commercial flooring business called Tarkett, a Japanese industrials company called Zeon and Babcock International, a British company that serves the defense industry. Babcock's attractive valuation was in part due to uncertainty posed by Brexit. Three more names we bought for a number of our accounts: Goldman Sachs, Carnival and BASF.
Most of these companies are in cyclical sectors. Is that where value opportunities can be found today?
Wyckoff: Yes. Because the high quality defensive businesses are richly valued, it's mostly cyclicals that show up on our screens. Of course it's tricky, we could be headed for a recession, so we scrutinize these businesses carefully. We see the agricultural cycle as bottoming out, hence our purchase of CNH. In most of the cyclical businesses that we recently bought, there has been significant insider buying. In BASF there has been very significant buying from managers and directors, the same goes for CNH and Tarkett. That's often a good sign.
Shrager: The tricky issue is to avoid the losers. There are a number of companies out there which are getting destroyed by the likes of Amazon, clothing retailers for example. Even though those companies are cheap, the risk is too high. Then there are cyclicals that show very low valuations, but they are low because they are based on peak earnings. That is a fool's game, because a low P/E at peak earnings is deceptive. Then what is left are companies that have some cyclicality, but you are not trading at peak earnings any more. Those are the interesting cases.
Wyckoff: We also bought shares in a real estate developer, Hang Lung Group, based in Hong Kong, that develops high end malls in China. Its valuation is very attractive.
One sector that looks cheap is European car makers. Is that a value trap?
Shrager: The car companies are going through a tremendous transition. First, there is the cyclical issue of the slowdown in China. Then there is the secular issue of the diesel problems and the rise of electric vehicles. European car producers have to invest tens of billions of dollars to develop and build these cars. They are faced with a period of extreme uncertainty. We don't like that.
How about European banks?
Shrager: I don't see light at the end of the tunnel in terms of their interest margin. A lot of European banks get more than 50% of their operating income from their net interest margin: How will they make money in this interest rate environment? If I thought that in a year or two Madame Lagarde will increase interest rates, thereby creating a reasonable net interest margin, then of course European banks would be very attractive at current valuations. But I think they are cheap for a good reason.
So in the banking sector you prefer Asian banks like DBS, UOB, HSBC and Bangkok Bank?
Shrager: Yes, because there they can earn a net interest margin. And in the long term, Asia is where the growth is.
Two of your largest positions are Roche and Novartis. Are you not worried about political price pressure in America?
Shrager: We cannot predict what politicians will do. It's possible that pricing pressure will increase. But at the same time, we know from experience that the lobbying of the pharma industry is very influential and successful. You see, there are three states that host most pharmaceutical companies in the US: New Jersey, California and Massachusetts. All of the six senators from these states are Democrats. How easy will it be for the p0liticians to really destroy the pharma business? I think very hard. Yes, at the margins, there will be some adjustments, but I don't think a fundamental change in the model is likely.
Wyckoff: And the underlying demand characteristics remain favorable, with the baby boomers retiring. The four pharma companies that we own, Novartis, Roche, Johnson & Johnson and Glaxo, have good pipelines.
What do you particularly like about Roche and Novartis?
Shrager: In the case of Novartis, we are impressed by the new management. The CEO, Vasant Narasimhan, is trying to focus on what really matters. First of all, he spun off Alcon. That was good. He also appears to be following a good strategy with Sandoz, the generics business, focusing on biologics.
Should he keep Sandoz within Novartis or spin it out?
Shrager: He should look if Sandoz has an organization that can be nimble and successful in biologics, that they are able to earn good money. The results have been a bit disappointing so far, but they get a shot at doing it. There is a clear opportunity, because quite a few biological medicines are coming off patent in the next few years. If Novartis can manage this well, Sandoz should be a part of the company. The valuation of Novartis is 12 times Ebitda, it has a 3% dividend yield, that is a reasonable valuation for a company that can grow its revenues 5 to 6% per year.
And Roche?
Shrager: You have the three big cancer drugs that are coming off patent, Rituxan, Herceptin and Avastin, and this is the thing many investors have been afraid of in the past few years. But the pipeline of Roche looks attractive, with products against breast cancer, other cancers like lung and leukemia, multiple sclerosis, hemophilia. This is a phenomenal pipeline. We believe that these new products have the potential to more than offset their patent losses. At 10,5 times Ebitda and a 3% dividend yield, Roche is a great investment.
Have you looked at Bayer?
Shrager: They have paid way too much for the Monsanto acquisition. As a result, they have a lot of debt on their balance sheet. Plus, the pharmaceutical business is in a period where they don't have many new drugs coming down the pipeline, and they face competitive threats in their existing drugs. And then of course there is the litigation risk around glyphosate in the US. But that is only a secondary concern to me. Bayer would only look attractive to me if it had a gangbuster pharma business that is temporarily weighed down by the glyphosate uncertainty. But they don't have that. Plus, the balance sheet has way too much leverage.
You have a position in the Swiss media group Tamedia. What do you like about it?
Shrager: Tamedia is managed in a very deliberate way. They move slowly, but when they make a move, it makes sense. By splitting the organization into four companies, they will allow different companies to better seize opportunities. I think Tamedia is one of the most misunderstood companies in Switzerland. We recently did a sum of the parts calculation that valued the company between 160 and 180 CHF a share. In our view, the company is extremely undervalued and very well managed. The Coninx family should take it private at these levels. Or grow through acquisitions.