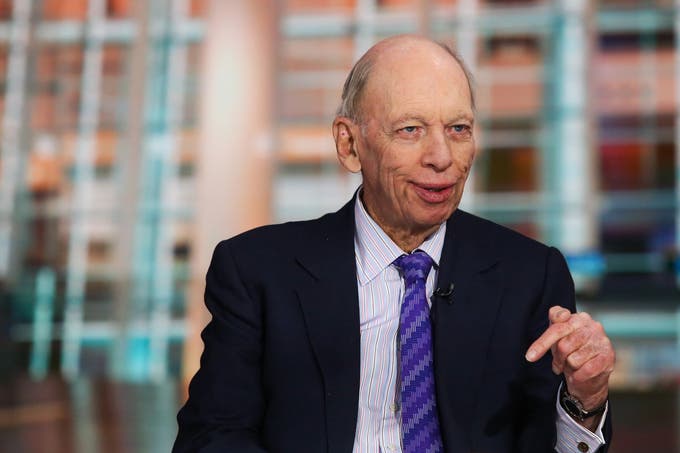 «I would not be surprised to see the market consolidate»
Blackstone's market maven Byron Wien expects that US stocks have most of their gains for this year behind them. He reveals what developments could surprise the financial markets next.
To expect the unexpected is key to success in investing. That's exactly what Byron Wien has built himself a reputation on: For more than thirty years the living Wall Street legend publishes a yearly list with ten surprises that will have a meaningful impact on the global financial markets.
Byron Wien
Byron Wien is Vice Chairman in Blackstone's Private Wealth Solutions group where he acts as a senior adviser to both the firm and its clients in analyzing economic, social and political trends to assess the direction of financial markets. Prior to joining
Blackstone
, Mr. Wien was the Chief Investment Strategist for Pequot Capital and before that he served for more than two decades as Chief U.S. Investment Strategist at Morgan Stanley. Mr. Wien received an AB with honors from Harvard College and an MBA with distinction from Harvard Business School. He is a member of the Investment Committees of Lincoln Center and The Pritzker Foundation. He is a trustee of the New York Historical Society and Chairman of the Investment Committee of the JPB Foundation.
Alles anzeigen
«People all over the world are aware of it and identify me with it», says the Vice Chairman in the private wealth group at Blackstone. «What they seem to like about it is that I put myself at risk by going on record and hold myself accountable at the year-end», he adds.
So how accurate are Wien's predictions for 2019 so far? Which developments could surprise investors during the rest of the year? And first and foremost: Where does the experienced market maven see the biggest risks and opportunities right now?
Mr. Wien, everybody on Wall Street knows you for your yearly prediction of ten surprises. What is the most astonishing development for you personally so far this year?
At the beginning of the year I predicted that the US stock market would be up 15% for the year. But here we are, at the beginning of May, and the S&P 500 already is up close to 18%. That's the biggest surprise to me.
What's going to happen next?
As the year began, the S&P 500 was selling at less than 15 times earnings and investor sentiment was clearly negative. These were near-perfect conditions for a strong market rally. Now the index is selling at 18 times trailing earnings and sentiment is optimistic. That would suggest that equities might have a more difficult time between now and year-end. So the market has done the major part of the appreciation. I don't think that stocks are going to be up 45% for the year or even 30%. I would not be surprised to see the market consolidate during the remainder of the year.
What are the major roadblocks going forward?
We're not in danger. When the market went down in the fourth quarter of 2018 a lot of people thought we might have a recession in 2019 or 2020. I don't think that's likely. I don't see a recession before 2021 and maybe even beyond that. Also, I think inflation is going to remain subdued and interest rates are not going to go up much. But I am worried about wages going up because average hourly earnings increases are already at 3.2% and 4% is the danger point.
Also, quarterly earnings are declining for the first time in three years. What's the state of Corporate America?
The first quarter was tough but I think earnings are going to go up 5% this year for the S&P 500. The economy is growing at 2%, inflation is at 2% and you are going to get 1% from productivity. So in the end, I expect that earnings and interest rates will be the determining factors and that geopolitical issues will cause temporary angst but not have a lasting effect on market performance.
And what about interest rates?
I think interest rates will stay below 3% on the ten-year treasury. From 2008 to the present time, the balance sheets of the major central banks in the US, Europe, the UK and Japan went from $3 to $16 trillion and a lot of that money is sloshing around, looking for a place to hide. That's why interest rates are going to stay lower than the consensus expects. You have negative interest rates in Europe and in Japan. That makes US Treasuries more attractive to investors which keeps prices high and rates low.
What does this mean for the stock market?
Stocks compete with bonds. Therefore, I like to apply a time-proven dividend discount model which projects the level of the stock market based on earnings and interest rates. With two variables, the ten-year yield and the level of earnings of the S&P 500, I can tell you the equilibrium point where stocks and bonds are equally attractive. Because interest rates are so low today, that equilibrium point is now above 3000 for the S&P 500.
Last year, you predicted that West Texas Intermediate oil would reach $80 a barrel. It almost got there but then it dropped back to $50. Where will oil be at the end of this year?
Oil is headed higher but not a lot higher from here. I don't think it's going to be $90 or anything like that. The price of oil is being affected by Russia and OPEC and their decision to restrict supply. Since we have an artificial control of the flow of oil, I'm reluctant to say that the price is going to go a lot higher than it is right now. Today, the price is where the major producers want it to be. They will work to keep it where it is because if they raise it a whole lot more, the danger of alternatives and hydraulic fracking becomes more real.
Oil is the lubricant of the global economy. What's your economic outlook for the remainder of 2019?
The US is definitely doing better and I think it will do better in the second half of the year. The US economy is still 70% consumer driven and the consumer is in good shape. Europe is not doing well. But I'm even kind of optimistic about Europe because China is getting better which will help Europe. So I see the second half being somewhat better for the world than the first half.
Then again, just a few weeks ago, the yield curve in the US has inverted. Isn't that usually a harbinger of trouble to come?
Usually the yield curve inverts because the short rate goes up. In this instance however, the yield curve has inverted because the long rate has come down. In other words, it isn't the short rate going up that has caused the inversion, it's the long rate going down. That may have a different set of information content or principles embodied. So the yield curve inversion may not be signaling the onset of a recession as it has in the past. Additionally, everybody is worried about this cycle because it's so old. But recessions come about because of excesses and there aren't a lot of excesses in the system right now.
What does this mean for the Federal Reserve and monetary policy?
At the beginning of 2019, I said that the Federal Reserve won't raise interest rates at all this year. That was before they announced that they will pause at the current level of 2.25 to 2.5%. I still think that's where they will stay all year long. People are talking about them cutting rates but for me that's out of the question. The Fed will wait to see that the economy is on solid ground.
And what's going to happen in 2020 in terms of Fed policy?
Now we're in a guessing game. My feeling is that the increase in interest rates is over. What you will see next is whether or not they resume shrinking their balance sheet. They reduced the balance sheet from $4.4 to $3.9 trillion. So my view is that if they want to take any more restrictive steps they will continue shrinking the balance sheet. But my guess is for now, they are going to stay on their path, slowing the runoff of their assets and ceasing the runoff entirely in fall.
You have navigated the financial markets for decades. How does this rate tightening cycle compare to others?
This one is totally different. Remember, the Fed was raising rates despite of the fact that the economy was not overheating and inflation was low. It was raising rates because it had lowered them too far for too long. So the Fed was anxious to get back to a more normalized posture. That was their objective and they kept raising rates until it looked like it was having a negative impact on the economy. Then they stopped. Right now, at this stage in the economy, the Federal Funds Rate should be at least 4%. So they're a long way from their goal. I'm not sure they will ever get there because the Fed only has two mandates: inflation and full employment - and we're at full employment and we don't have any inflation. So there is no reason for the Fed to raise rates further. Everybody, including President Trump, says the Fed should be pursuing a monetary policy that encourages growth. But that isn't in their mandate. The Fed has to focus on inflation and employment. It shouldn't stray beyond these boundaries.
Speaking of Donald Trump. What are his chances to get re-elected in 2020?
While it's too early to speculate on the 2020 election, the lack of criminal findings related to the president in the Mueller report improves his chances of having a second term. What Trump has going for him is that the report will be a dim memory when the 2020 campaign heats up. The Mueller Report is causing a lot of headlines.
So who's going to win the election?
So far, I don't see anyone who could beat Trump. It's very hard to unseat an incumbent President if the economy is doing well which this one is. Trump will do everything possible to keep the economy growing above 2%, exclusive of inflation. Also, he cut taxes, dismantled regulations and we're not going to war with North Korea. These are positives for him. But there is no question that neither you nor I want our kids to grow up to be Donald Trump. So he has certain personal characteristics that are a long way from admirable. But that is not enough for him to lose the election.
And what about Democrats?
On the Democratic side there are too many candidates, making it difficult for the electorate to focus on the suitability of only a few people who really could win. My view is that America today is in a center left position. Extreme candidates like Bernie Sanders or Elizabeth Warren aren't likely to win the nomination. As much as I don't like saying it, charisma and social media attractiveness is going to play a big role in 2020 as it did in 2016. And on that basis, Beto O'Rourke and Pete Buttigieg are in a better position. But both of them are very unseasoned and don't have a platform people can respond to. That's why I don't think that there is anybody on the Democratic side who has emerged so far that can beat Trump. Then you add to that that Trump, for all of his faults, is a very effective campaigner. So if you put all these things together, where it stands right now is I think he's going to be reelected.
Then again, Joe Biden seems to gain a lot of traction. Why don't you think he can beat Trump?
To me, Joe Biden seems likely to be chosen as the best compromise candidate. But he has the problem of his age and unpopular positions in his past voting record. His delay in declaring his candidacy has put him at a disadvantage in building staff and dealing with unfavorable press coverage of his relations with women. Also, I don't think he fits the social media and charisma criteria.
Now, there is some talk about Impeachment. How would that influence the 2020 election?
The House of Representatives can vote for Impeachment and that would blemish Trump. But the Mueller Report blemished him enough. I don't know how much more the Democrats will incrementally achieve by passing an Impeachment resolution. The Senate will never go for it and therefore Trump won't be impeached. So I think it's an outer waste of time and House Speaker Nancy Pelosi has the right position. The Democrats should focus on getting something done in Congress rather than impeaching the President. But they don't seem to be focused on that.
What does this all mean for the financial markets?
If the Democrats win, we're definitely going to attack the Affordable Care Act and move more toward a single payer system. What we are going to do is put emphasis on healthcare, the environment and inequality. Those are going to be become central issues if the Democrats win. But, as I said, I don't think that they are going to win. Therefore, it's going to be more of the same which means earnings and interest rates are going to be the dominant factors. In my mind, there is no question that the stock market prefers a Republican administration. Trump converted the mood in Washington from business unfriendly to business friendly. So if the Democrats win it's bad for the stock market. If the Republicans prevail, the stock market will continue on its current course.
So how should investors be positioned against this backdrop?
In terms of asset allocation, I have a radical position. Basically, I have an all equity portfolio. I have 15% in bonds, but it's in mortgages, leveraged loans, mezzanine financing and emerging market debt and high yield debt. So even the bond portion of my portfolio is equity like. I own no British Guilds, no German Bunds and no US Treasuries because you don't get enough of a yield there.
What does the rest of your portfolio look like?
I have 40% in long only equities: 5% in global large cap US Multinationals, 15% in other US stocks, 5% in Europe, 5% in Japan and 10% in Emerging Markets. And then 10% each in hedge funds, private equity and real estate. So that's 40% in equites, 30 alternatives. Another 5% are invested directly in national resources, 15% as mentioned in radical fixed income and 10% in cash.
And what is your highest conviction trade?
In general, I favor growth over value. That's because in the growth area you can get earnings increases of 15 to 25% where in value space it's going to be pretty much the 5% that I expect from the S&P 500. What's more, I'm definitely positive on the Emerging Markets. I'm particularly positive on China and India. One of my ten surprises for 2019 is that the Chinese stock market will be up 25% this year. Today, it's already up more than 17%.
What about gold?
I expect gold to decline in price. The metal has been in a consolidation pattern for several years and it looks like that it's going to break out of it one way or another. So far, gold has done nothing this year because if you can make money in the stock market, why do you need to incur the insurance and storage costs of gold?
We're now in the tenth year of the bull market in stocks. What's the biggest surprise to you when you look back at the last decade?
The biggest surprise is that inflation has stayed so low and interest rates have stayed low along with it. That has enabled the market to continue to make progress for a decade. Those conditions are still in place and that's why we have a generally favorable outlook for the economy and the market going forward. I don't see a recession anytime soon. But when we have one, we don't have the traditional tools to get ourselves out of it. The traditional tools are monetary and fiscal policy, but we're already running a big budget deficit. So there is going to be a reluctance to increase the deficit further. Also, monetary policy has been accommodative for long enough and it won't be accommodative then. So if we do get into another recession climbing, out of it will be a long and slow process.