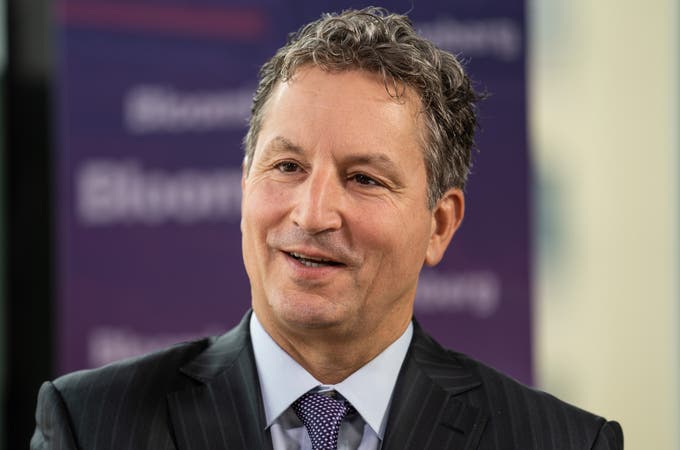 «Mr. Thiam did all the right things»
Major Credit Suisse shareholder David Herro explains what he expects from the CEO of the Swiss bank after a highly publicized espionage affair. Additionally, the head of international equity investments at Harris Associates says what he likes about his positions in other Swiss companies such as LafargeHolcim, Richemont, Swatch Group and Julius Baer.
Finally, things were looking up for Credit Suisse. After completing a painstaking restructuring process, the Swiss banking giant was gaining traction in the first half of the year and the stock outperformed its local arch-rival UBS. But over the past weeks, an espionage affair surrounding a former employee has rattled the financial services group.
David Herro
David Herro is one of the most distinguished investors when it comes to international equities. A veteran value specialist at Chicago based
Harris Associates
, he has been a manager of the Oakmark International Fund since 1992, the Oakmark International Small Cap Fund since 1995, the Oakmark Global Select Fund since 2006 and the Oakmark Global Fund since 2016. He is also the Chief Investment Officer for International Equities at Harris Associates, which he joined in 1992. His career honors include being named Morningstar's International Stock Fund Manager of the Year in 2006, International Stock Fund Manager of the Decade for 2000-09 and International Stock Fund Manager of the Year in 2016. Mr. Herro has an M.A. in Economics from the University of Wisconsin-Milwaukee (1985) and a B.S. in Business/Economics from the University of Wisconsin-Platteville (1983). He is an ardent fan of the Green Bay Packers and a passionate car collector.
Alles anzeigen
David Herro observes the scandal with annoyance. The renowned Chief Investment Officer for international equities at Harris Associates is one of Credit Suisse's largest shareholders for many years. He manages approximately $55 billion of client assets and the Swiss bank ranks amongst the top five positions in his Oakmark International Fund.
In his view, the recent episode looks like a «dirty tricks campaign» against Credit Suisse and was blown out of proportion. «No laws were broken», declares Mr. Herro. «I personally would have been stronger on the defense of CS given how the story has been exaggerated, and to some degree fabricated», he points out regarding how the board of directors lead by chairman Urs Rohner handled the affair.
In an extended interview with The Market, Mr. Herro explains why he thinks that Credit Suisse CEO Tidjane Thiam continues to be the right man at the top of the bank's executive team, what he now expects from the company going forward, and why he's also betting on European competitors such as BNP Paribas and Intesa Sanpaolo.
Additionally, the veteran value investor comments on his positions in other Swiss companies such as Julius Baer, EFG, LafargeHolcim, Richemont and Swatch Group, where he recently expanded his stake.
Mr. Herro, fears of a global recession are gripping the financial markets. How do you navigate this environment as an experienced value investor?
The world probably hasn't had this bad feeling in a long time. Investors have to cope with Brexit, the trade wars and all these «unusual» leaders we have around the world, starting with our very own president here in the United States. So the markets are way too focused on macro and geopolitical risks which has enabled us to harvest opportunity. The world won't feel better right away. But down the road, this will lead to very good returns as the market is incredibly bifurcated in terms of valuation: Some sectors are dirt cheap and others are extremely expensive. Take Daimler versus Tesla for example, or WPP or Publicis versus their clients.
How do you take advantage of these valuation gaps?
To us, price matters and we're in one of these periods I haven't seen since the end of 2008. We have such tremendous bifurcation in valuation and it's due to this feel bad factor. But you know what? This too shall pass. We've had all this nasty stuff, but we're going to be in for some good stuff. The pendulum swings and this market is handing me opportunity. But you need patience and this is what lacks in the world today.
Three quarters of your portfolio are invested in Europe, where the economy looks particularly grim. Why do you see value in European companies?
This is exactly why there are opportunities: This macro noise has depressed share prices. The market mistakenly feels that just because a company is based in Europe, it can't do business. True, Europe is stagnant, it's over-reliant on monetary policy and it has no clue how to get itself out of the economic malaise. But the value of European companies hasn't fallen anywhere near their depressed share price. In 90% of the cases the value of the businesses keeps going up because European companies aren't just exposed to Europe. They're exposed to the entire world which is growing at about 3 to 3.5%. In this type of environment, you can still earn money. For someone who's investing for the long haul, who's buying a piece of a business, who patiently waits and who looks for big spreads between price and value, European companies are very attractive.
It's hard to find a more depressed sector than European banks. What's your bull case for names like Credit Suisse, BNP Paribas and Intesa Sanpaolo which rank amongst the largest positions in your portfolio?
This is one of the greatest anomalies - and one of the greatest opportunities for a value investor. Why? Because the market has automatically assumed that negative and low interest rates mean huge declines in bank earnings. But we haven't seen that. Of course, the lending spread is important for banks, but it's not the only factor driving earnings. Fee income, costs, credit quality: all these factors also have an impact. As a result, banks have cut costs and expanded their fee-based income. Meanwhile, the regulatory environment has turned from negative to neutral, at worst: The high-quality banks are all at their required capital positions. And, maybe at some point, we have some economic growth which will be a huge positive.
Then again, European bank stocks have been trending lower for years. What do you think will change the perception of investors?
I think it's all based on the belief that low or negative rates are going to destroy earnings. But this hasn't happened. Look at the last two years: Yes, earnings are not booming. But what's really happening is that the banks are able to sustain their earnings power. To us, this is an exploitable opportunity: You have the market stereotyping without digging into what's really happening resulting in ridiculously low valuations. European banks are selling at 60 to 70% of book value and they are yielding 7 to 10%. BNP Paribas for instance, is yielding at 7%, and that's with a 50% pay-out ratio. Yield hungry investors should actually be flocking to these stocks.
Let's take a closer look at Credit Suisse, one of the very top positions in the Oakmark International Fund. Over the past weeks, a spy affair has rattled the bank. How do you think leadership has handled this situation?
I've talked to a lot of different people about this affair, inside the company, and to other business people. I also have my own thoughts and I think Mr. Thiam is treated unfairly regarding this whole episode. Iqbal Khan, the former wealth management head at Credit Suisse who said he's going to leave the company in July, was interviewing all over town. He interviewed with Julius Baer and for some reason he didn't take the job as CEO there. So he ended up at UBS. Given that, Credit Suisse decided to keep an eye on him based on the fact that he knows the business, he's high profile and he's not supposed to be approaching former co-workers and clients. So they ended up hiring this surveillance firm that didn't do a good job.
As we know, the cover was blown and the whole thing set off a media storm. Also, a security consultant Credit Suisse used to hire the private detectives died of suicide. How will this affair impact the bank's reputation from an international perspective?
The whole episode looks like a dirty tricks campaign against Credit Suisse and was blown out of proportion, given how the original story - which appears planted - of the confrontation between Mr. Khan and the security agent was wildly exaggerated and spread throughout the press. The original story of the three security guards attacking Mr. Khan is what caused all the indignation but though it was false, it led to the unfortunate chain of events. In most businesses, and especially in the financial business, you can't expect privacy. This is 2019. When you join just about any firm you have to sign a release saying your employer is watching your phone, your computer and when you walk into the office your employer is going to scan you. So this notion of «how dare Credit Suisse spy?» is kind of a false uproar in my view. No laws were broken and this is why I personally think COO Pierre-Olivier Bouée who arranged the surveillance of Mr. Khan shouldn't have left the company.
What is your impression of Credit Suisse chairman Urs Rohner's work over the past years and how he handled this episode in particular?
Mr. Rohner has done a good job during what has been a tough period for CS, especially since he has hired and supported Tidjane Thiam and his team that have done an excellent job at improving Credit Suisse. Having Mr. Rohner support the changes that have taken place in the last four years has insured the success we are seeing today. In regards to the current situation regarding the monitoring of the employee, though I personally would have not accepted the COO's resignation, and been stronger on the defense of CS given how the story has been exaggerated, and to some degree fabricated, I understand his viewpoint. At this time, it is important that he and Mr. Thiam work together to navigate the company through this current situation and to continue to execute the improvement plan.
According to Credit Suisse, CEO Tidjane Thiam didn't know about the surveillance. It's now more than four years since he has taken the reins at the bank. Why do you think he's still the right man to lead the company going forward?
Under Mr. Thiam the company has changed significantly for the positive. He inherited a business which needed to be rearranged. Credit Suisse was severely undercapitalized, had bloated expenses, was underearning and had a very volatile earnings stream, mainly due to the investment bank. So through these four years, you saw risk-weighted assets go down, costs go down and capital go up. The bad bank has been run-off and Credit Suisse has been growing its high net worth and private banking business all over the world. It didn't happen overnight, but Mr. Thiam did all the right things.
Yet, the performance of the stock is disappointing. Why are you holding on to your position?
To us, more important is what's happening with the business. The firm's earnings strength has been masked by the charges taken from the distressed asset unit. Today, these charges are gone and the investment bank does much better. What's more, Credit Suisse is at a position where excess capital could be returned to shareholders or be used to grow the business. When Credit Suisse continues on this path, the stock will be re-rated. Today, it trades at six times normalized earnings. I don't think it's a stock that should be at sixteen times earnings like a pure private bank. But it should be at twelve times earnings. It's just a matter of demonstrating sustainable earnings and the market will recognize this, eventually.
Mr. Khan drew accolades for his work at Credit Suisse. Is the talent pool around Mr. Thiam still good enough to navigate the bank successfully through the coming years?
Yes. I do think the bank has some very talented people. More importantly, they have good product and they have a competitive advantage: Credit Suisse has been doing a much better job during the last two or three years in the ultra-high net worth segment. In Asia, and now in Brazil, they basically put the private bank together with an investment bank which offers a vertical chain of services for their clients.
What are you expecting from Mr. Thiam and his team on an operational basis going forward?
I think you will see more finetuning in the business model. They don't really need to go out and do M&A because the machine is starting to work very well. Again, the business model is having a private bank that's stronger and stronger and keeps building its niche. Because this is a world, especially in the emerging markets, where wealth keeps getting created at an increasing rate. Credit Suisse has done a very good job at leveraging the interaction of the investment bank and the private bank, particularly in Asia. I think there is a lot more to be done there.
Where else do you spot opportunities for growth?
We see distress in some of the competitors in the investment and global markets. Look what's happening with Deutsche Bank. Some of these companies are retracting, either completely or into franchises with which they can be profitable. That could benefit Credit Suisse if there is less competition in certain business lines. I think Mr. Thiam will continue to focus on these things.
This trend comes to the advantage of UBS, too. Why do you prefer Credit Suisse over UBS?
When you look at what you are getting for the price you pay, Credit Suisse still trades at a discount to UBS. Credit Suisse has been more of a turnaround story. So you're paying a lower valuation and you should get more near term growth and income. It's just a value proposition.
Then again, the shares of UBS are performing worse this year. Doesn't this draw your interest as a value investor?
We've owned UBS in the distant past. Maybe at some stage we'll own it again. If the price-value characteristics are there, we never say never to anything. But there has to be a value proposition. Plus, we have the exposure in Julius Baer which is a pure private bank. That gives us very good exposure to the growth in private banking between Julius Baer and Credit Suisse.
What do you like about Julius Baer specifically?
Private banking has transitioned from relying on on-shore and dark money to providing financial services and advice to high net worth people. When you look at critical mass at publicly listed private banks, Julius Baer is really the only one there. Other ones are much smaller or not listed, like Pictet. In our small cap fund, we also have EFG. Thinking long term, these are good businesses. If you can offer high net worth people services and products you get growth in net new assets and you get market growth. In today's world, very few businesses have good through cycle mid-single digit growth like Julius Baer and EFG. Yet, they are trading at very attractive valuations.
It's no secret that Julius Bear could be a candidate for further consolidation in the global private banking business. What are your thoughts on that?
We have been hearing this stuff for so long. I think there is a case for more consolidation and I would hope that any of our holdings is open to be acquired or to be an acquirer. But it all depends on price. Everyone should be for sale at a price. If it's a low price or a medium price, you're not for sale. But if someone is willing to come and pay goofy money, you have to do this for your shareholders.
What would you consider to be a fair price for Julius Baer?
Both, Julius Baer and EFG, are nowhere close to fair value. They have more than 50% upside. How do we get to this assessment? You attach today's multiple to mid-single growth of 4 to 6% which isn't crazy. If you take net new money which tends to be 3 to 5% and add a little bit of market appreciation, you should easily be able to grow mid-single digits. That's why today's multiples just don't make sense.
Would you also be open to a merger between these two banks?
There is always talk about this. Neither of them has to do any sort of merger. Both of them are at critical mass today. So again, it all depends on price, synergies and chemistry. If those things work, perhaps it would be good. With Mr. Latsis, you have a big owner in EFG. Maybe he could see that one plus one equals three. If that's the case, I think everyone is in favor of it. But you have to be able to demonstrate that one plus one equals more than two.
Speaking of one plus one: You're an investor in LafargeHolcim. What's your take on the cement giant's operational performance since the merger back in 2014?
We're finally starting to see the benefits of the merger taking place. This is a business that is critical mass oriented. If you want to earn above economic profits you have to have market power. CEO Jan Jenisch has done a very good job at going through dozens and dozens of different markets. He's going through the portfolio of businesses and sells the ones where they can't be a market leader and be profitable.
Where do you see further potential to streamline the portfolio?
Cement is a local business. There is not a lot of advantages in having plants everywhere from a synergy perspective. The company is in markets where there is a rather large number of producers and it can't get critical mass and acceptable pricing. Mr. Jenisch has taken a smart approach of bolstering and strengthening where LafargeHolcim is strong. Take India as an example. But where you can't earn a return during the cycle, you have to leave. So there are some places in Africa and China they may exit.
What should the company do with the proceeds of these divestures?
They should take in these proceeds and focus on A) where they're strong and B) on verticals, ready-mix chemicals where they're adding value. It took a while because you had diverging French and Swiss interests and you had a board which wasn't on the same page. But now, the company is starting to get traction and Mr. Jenisch really helps. He is one of the few extremely gifted executives.
Mr. Jenisch also stated his interest in buying the construction chemicals business of German chemical maker BASF. Would you support such a deal?
It all depends on price. But there would be no better manager of that asset than Mr. Jenisch given his past experience. He could probably extract more value than any other buyer.
You recently initiated a position in Swatch Group. What do you like about the Swiss watch maker?
We've owned the stock in the past. Now, because of the negative sentiment regarding the China trade situation, we see a big gap opening between price and value. So we've added Swatch back to our portfolio. We think it's a good high-quality business. It is exposed to medium and long-term growth, especially when you look at their investment in Harry Winston and how they command still a strong market position in watch movements. Also, Swatch has very good exposure to China. Over the medium and long-term this is a great opportunity even though there are some short-term headwinds. Given our time horizon and the quality of Swatch's business, we think this has been a very good time to add it to the portfolio. In fact, we increased our position size somewhat recently.
You're holding a stake in Richemont, as well. Which one of the two luxury goods companies is better positioned?
Richemont and Swatch have some major differences. One of course is that Swatch has a big business in movements and Richemont has a big position in jewelry. They both have a watch businesses and Swatch has more exposure to lower priced watches. What's more, Richemont perhaps is more consistently managed. Mr. Rupert has been there for a long time. The Hayeks have also been consistent in ownership, but different Hayeks. So, there is a little difference there. But we try to incorporate all these differences into how we price a business and we think both of them are undervalued today.
At Swatch, there have been some operational hiccups recently. How do you experience Mr. Hayek as CEO?
Certainly, the Hayeks, including Nicolas Hayek, have been less than conventional. But that's ok, as long as they are committed to creating shareholder value. The Hayeks themselves are big shareholders so there is very good alignment between them and the rest of the shareholders. I think they get very frustrated by the short-termism of the market. We agree with Mr. Hayek that the market thinks very short-term because that gives us an opportunity to buy a quality business at a low price. At some point, I'm sure they are going to have more non-family management inside. But at this stage, I guess they feel that there is not a need to do that.