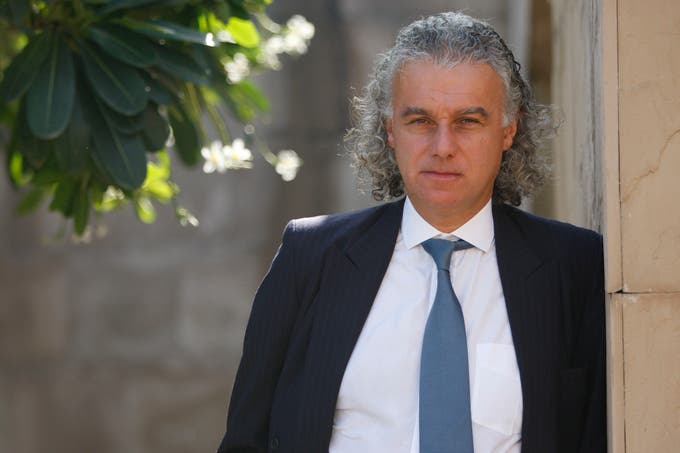 «Oil Stocks are Incredibly Cheap»
Christopher Wood, Equity Strategist for Jefferies, has a positive view on world financial markets in 2020. In an in-depth interview, he states his bullish case for Asian emerging markets and Japan, and he explains why energy is the most exciting sector today.
Christopher Wood
Christopher Wood joined Jefferies Ltd as Equity Strategist in May 2019. Prior to that, he was the Equity Strategist for CLSA in Hong Kong, where he was ranked as No. 1 Asian equity strategist in numerous polls several years in a row. Before joining CLSA, Wood worked for ABN Amro and Peregrine. Since 1996, he has been publishing his celebrated weekly Greed and Fear research newsletter, which has a global readership among investors. Prior to entering investment banking, Wood spent more than ten years as a financial journalist for The Economist, working as the bureau chief in New York and Tokyo, and for the Far Eastern Economic Review in Hong Kong. His book «The Bubble Economy : Japan's Economic Collapse», published in 1992, was an international bestseller. Christopher Wood spends most of his time travelling around the world.
Alles anzeigen
2019 was a stellar year for global equity markets. Indices like the S&P 500 or the Swiss Market Index have gained more than 30 per cent.
Christopher Wood, Equity Strategist for Jefferies and author of the celebrated weekly Greed and Fear research newsletter, sees the main factor for this performance in the U-turn of the Federal Reserve. Its rate cuts and the renewed expansion of its balance sheet were a game changer for financial markets.
Wood is rather optimistic for 2020. Throughout the fall of 2019, market participants were gaining confidence that the economy is not facing a full-blown recession, hence they have rewarded cyclical sectors like industrials and financials with an outperformance. Wood gives that cyclical trade the benefit of the doubt, with one important caveat: The trade conflict between the U.S. and China must not escalate again.
He expects a weakening Dollar, which would be very bullish for Asian emerging markets. Wood is positive on Japan and expects gold to be in a new bull market. The most exciting sector in his view is energy: «Oil stocks are the ultimate distressed value asset out there. They are incredibly cheap», says Wood.
Mr. Wood, 2019 was a stellar year for most risk assets. Can that run continue?
You have to remember that during the fourth quarter of 2018 the market had suffered a big downdraft. So the year-on-year percentage is a bit misleading. But yes, on a purely statistical basis it was a stellar year. Investors can thank the Fed for that. That was the key thing that happened in early January, when the Fed decided a U-turn in their policy stance.

That was the game changer?
Without any doubt. We ended 2018 with credit spreads rising, the balance sheet of the Fed contracting and markets were expecting several rate increases. Then came the Powell Pivot in January and changed everything. In the end we got the opposite: An expanding Fed balance sheet and three rate cuts.

Since the end of August, cyclical sectors like industrials and financials have been outperforming the market. Are investors correct in their expectation of a cyclical upturn?
First, I think the bond market rally in summer was so enormous and the flattening of the yield curve so dramatic, that part of this move is just a natural retracement. Cyclicals started to outperform just when the bond market peaked. With bond yields rising and the yield curve steepening, bank stocks usually outperform. But you see, ten-year yields in the U.S. are not even above 2 per cent yet. They can go to 2.25 per cent just to fill the gap in the charts.
But apart from this retracement: Do you agree with the market's expecation of a cyclical upturn?
What the market reflects is this: people became more confident that the manufacturing downturn would not feed into the service sector. That is the main thing that happened in the second half of 2019. The data from the manufacturing sector was very weak and signalling a recession. But the service sectors and domestic demand in the U.S. have remained relatively resilient. So market participants were becoming more confident that we would not face a full-blown recession. One of the drivers for the manufacturing downturn was trade uncertainty, another was the DRAM cycle, and also the previous year's monetary tightening by the Fed. With these factors out of the way, I would give the cyclical trade the benefit of the doubt. But it's very important that the Phase One Agreement between the U.S. and China will be signed. If tomorrow for some reason we get the news that the deal is off, it will all reverse.
President Trump has announced via Twitter that the agreement will be signed on January 15th.
Yes, I see that as a big positive that he publicly stated a date. I mean, this is very unusual to have such a major thing announced so far in advance, without any side having published the text of the deal. So as long as it is not published and signed, there is a non-zero risk that it all could unravel. Trump is quite smart with his communication, he tweeted the date of January 15th to keep the whole positive mood going.
Assuming that the Phase One Agreement will indeed be signed: Will that really solve much?
No. Phase One is a marginal positive, but not a huge positive, because most of the tariffs remain in place. The major technical and security issues between China and the U.S. are not solved. There is a deeper rivalry playing out. Take 5G for example, where countries in Europe and Asia will some day be forced to choose sides. But as far as financial markets are concerned, my view is that as long as the trade issue is perceived to be getting better, investors give the benefit of the doubt to the cyclical trade. But again, this outlook could be overturned if the deal unravels and they start increasing tariffs again. That would just be plain negative.

The Fed balance sheet is expanding again, they are buying Treasury Bills at a pace of $60bn per month. In their initial announcement, the Fed said this was a temporary measure that will be reviewed in the second quarter of 2020. What will happen then?
The Fed has left the announcement rather wide open, so they will be able to do anything. The rate of expansion of the Fed balance sheet is pretty dramatic. They say they have not formally resumed quantitative easing, stressing that this is just a temporary measure to deal with liquidity problems in the repo market. That may be the case, but I can tell you investors treat this as QE in all but name.
Do you see it as QE as well?
Yes, I do. But it's not important what I think. Important is that markets in general are seeing it that way. We have seen M2 growth accelerate rather significantly in the past months, which seems to be partly influenced by the Fed balance sheet expansion. This all created a risk on atmosphere in financial markets.

You mean the Fed will remain a benign factor for the forseeable future?
Yes, probably. There is one more issue: The Fed is doing a strategic review, which they will announce at some point this year. That review might include a softer inflation target: The Fed might say that if inflation should overshoot, they would be relaxed, because it had undershot for so long. That's what several Fed Governors have been talking about. If that stance would be formalized, it would be positive for risk assets, because it would effectively mean that the barrier for tightening has gone up. To me, the interesting question now is this: Will this lead to a prolonged Dollar weakness?

Will it?
The Dollar is certainly starting to weaken. Logically, with the Fed expanding its balance sheet like it does, the Dollar should weaken. But you see, last year we had the Powell Pivot which should have been Dollar bearish, but it wasn't. So we have to watch it.
What signs will tell you that the Dollar weakness is for real now?
That's hard to say, I'm just watching the Dollar Index. One important thing to look for is whether the trade deal will include any currency component. In my view, an easy win for both sides would be for the Chinese to make a statement that they won't engage in competitive devaluation. That would then allow the U.S. Administration to stop declaring China a currency manipulator. That would be an easy win, because in effect Beijing and Washington want the same thing: Trump doesn't want the RMB to devalue meaningfully against the Dollar, nor does China. So when they publish the agreement, I will be eager to see if there is any language on the currency included. If there is, that might help put a top to the Dollar.

And a weakening Dollar would be the trigger for an outperformance in emerging market equities?
Yes, definitely. Asian emerging markets will benefit.

What's your view on Japan?
I'm bullish on Japanese equities due to long term structural issues with corporate governance getting more shareholder friendly, dividends rising, plus the effect of the global cycle picking up. But the real issue with Japan is fund flows, and the big question is if domestic institutional investors will return to the market. That is what will be needed for the Japanese stock market to do well. Otherwise Japanese stocks can only go up when foreign investors are net buyers. That was the case in the past months, driven by hopes that the cyclical global downturn was over.

So your bullish case for Japan is primarily a domestic issue?
Japan will only perform dramatically well when domestic institutional investors return. Bear in mind, they have not reallocated to their own stock market for thirty years. They have been lowering weightings to their own stock market since 1990, and they just never came back so far. The single most important variable concerning Japanese stocks you have to watch is not macro, but fund flows.

And will domestic institutional investors return?
They should, because dividend yields are rising, while bond yields remain low.

What's your outlook for European markets?
As long as the cyclical trade is going on, Europe is fine, because it has a big banking component. As long as we have a yield curve steepening, Europe will do well. But the longer term issue with Europe is that the Eurozone is in my view now run by the French. Emmanuel Macron is the most powerful politician in Europe today, and he's got Christine Lagarde appointed to head the ECB. That's a political appointment, as Lagarde is a politician, not a central banker.
What will that mean?
It's already clear that they will revise the agenda and move forward towards a banking and fiscal union in the Eurozone. And the more people start to think that they are making progress in that regard, that will trigger conversion trades. If you believe in that trend, you will want to own assets like Italian banks. But that is a five year story, not a three month story. That's the direction the French want to move, and the question is how much resistance they will get from Germany.

What's your view on gold? The gold price, currently at $1575 per ounce, has reached the highest level in more than six years.
The Fed balance sheet expansion is obviously gold positive. Technically, gold has broken above the $1460 level, so as long as the price doesn't break below that level in any meaningful way, you should give benefit of the doubt that gold is in a new bull market. The U-turn by the Fed last year was basically gold bullish. But what will get gold way higher from here is if we should get growing expectations of an economic slowdown in the U.S., which would mean the Fed will ease more.

Given the escalation of events around Iran, the gold price has advanced five per cent since late December. Is that sustainable?
In the very short term I would expect gold to correct a bit, because the recent pop was due to the Iran tensions. Short term, it's a bit overbought. The point is that it remains above $1460. That's the key level to keep looking at. The other interesting thing to point out is that gold mining stocks have outperformed gold. That's a positive sign for gold.

Why is that?
That's just a historical observation. If you see the gold price going up and mining stocks not moving, that would be negative for gold.

So the way to play the gold bull market going forward is gold mining stocks?
Yes, if you want the leverage. Gold mining stocks are now trading at November 2005 levels when the gold price was around $480.

You've recently been writing some very bullish thoughts on the oil and energy sector. What's your case there?
When people get excited about this ongoing cyclical trade, they should look at oil as the ultimate distressed value asset out there. To me, oil stocks are incredibly cheap. There are technical reasons for that, because of the large passive investment flows, and oil is a smaller and smaller part of the index. Also, there are more and more institutional investors who can't buy oil stocks anymore because of ESG limitations. On the other side, there is no sign that oil demand is weakening. Consumption in emerging markets continues to grow, while conventional oil investments have been reduced significantly, precisely because of all this talk that the fossil fuel era is ending.

So in your view, energy the one remaining cheap sector out there?
Yes, without a doubt. But I will freely admit that there are all sorts of technical issues because as I said many investors can't buy oil stocks anymore. We have this bizarre situation where people can't buy oil stocks, but people continue to consume oil.

What do you make of the jump in oil prices after the recent escalation of events in the Persian Gulf?
It's certainly oil positive. What would really be oil positive is if Iran would close the Strait of Hormuz. But beyond the geopolitical stuff, the key issue with oil is supply: Conventional oil investment has not picked up as it should have been expected after the oil price bottom in 2016. The reason it has not picked up is because people are saying the fossil fuel industry is dead and buried. And if you're a big oil company, you are thinking twice before you make a big investment. The main swing factor in oil supply during the past years have been the U.S. shale producers. But last year, U.S. shale production has slowed significantly.

Why is that?
There is an argument by geologists that the best shale oil areas have already been exploited. If that argument is true, then U.S. shale production will be less than what people currently are assuming, and that would mean shale won't be able to fill the gap left by the conventional oil industry.