History Rhymes
Predicting the top of a financial bubble is next to impossible. But with the financial masters of the universe in such a giddy mood and looking like geniuses, perhaps it is time to consider the downside.
Kevin Duffy
Kevin Duffy is a battle-proven veteran in the risky business of short selling. He co-founded
Bearing Asset Management
in 2002 along with Bill Laggner. They were vocal critics of the 2007 credit bubble, successfully shorting many of its most aggressive players including Countrywide Financial and Bear Stearns. Prior to Bearing, Kevin co-founded Lighthouse Capital Management and served as Director of Research from 1988 to 1999. He chronicled the excesses of the Japan and technology bubbles of the late 1980s and the late 1990s. Kevin Duffy bought his first stock at the age of 13. He has a passion for Austrian economics and is the author of the popular Notable and
Quotable blog
.
Alles anzeigen
After I gave a speech in 2005 about the housing bubble and hazards of forecasting, a friend offered some sage advice: «It's perfectly okay to predict the end of the world. But just don't ever give a date.» Predicting the top of a financial bubble is next to impossible, but the decade long bull market has turned this into an exercise in self-flagellation.
Setting all caveats aside, are there any signs the so-called «everything bubble» may be nearing its expiration date? Two recent covers of widely-read business magazines give an eerie sense of déjà vu from past bubbles.
First up is a Barron's cover that tempts and taunts the investment gods with the headline, «Is the bull unstoppable? – The decadelong rally could continue for years, the optimists say»: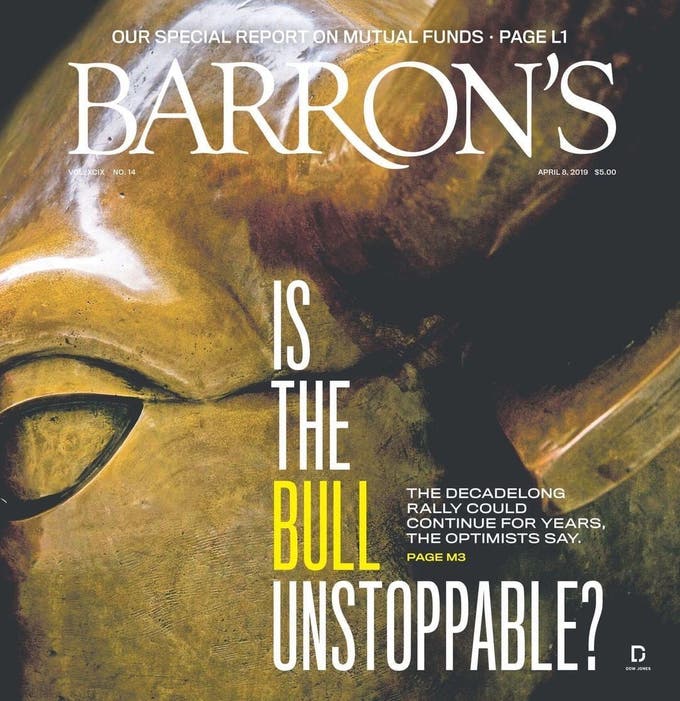 Turn the page and you'll discover this gem by JPMorgan chief U.S. equity strategist Dubravko Lakos-Bujas:
«We are all used to using the word ‹cycle›; we're all used to looking at historical charts and graphs and equations and relationships. The reality is that maybe the word ‹cycle› is no longer even relevant, given that we have so much unconventional central-bank involvement.»
Where have we heard the words «this time is different» and «the business cycle has been repealed»? We could choose any bubble. In April 1929, Financial World wrote,
«It may be well again to stress the all-important point that the Federal Reserve has it in its power to change interest rates downward any time it sees fit to do so and thus to stimulate business.»
The second cover is provided by Bloomberg Businessweek and asks the titillating question «Is Inflation Dead?»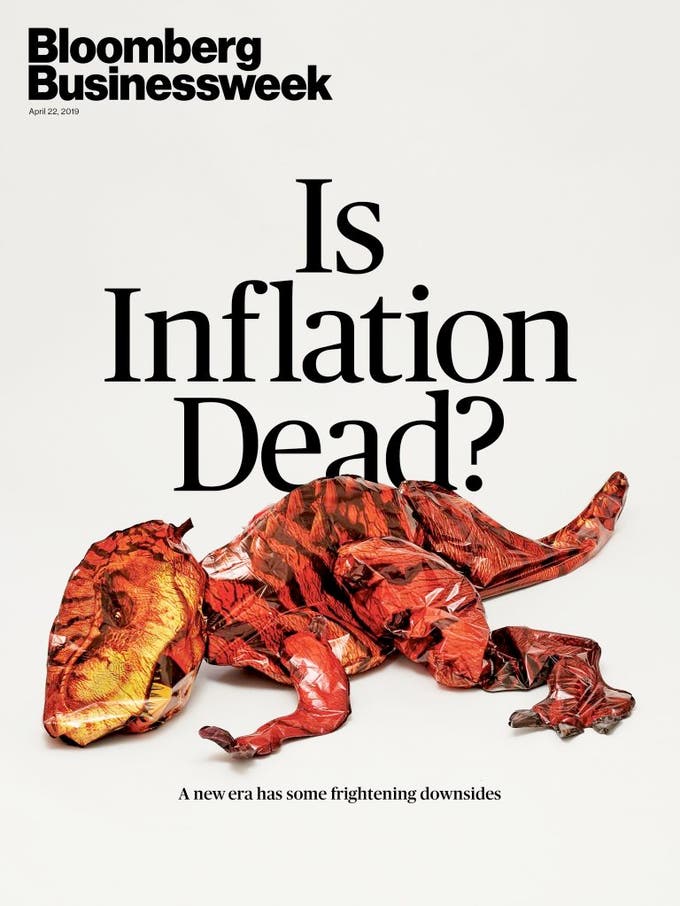 Haven't we seen something similar before? Of course we have.
This immediately brings to mind the ignominious 1979 BusinessWeek cover, «The Death of Equities», which augured in a four decade bull market in financial assets.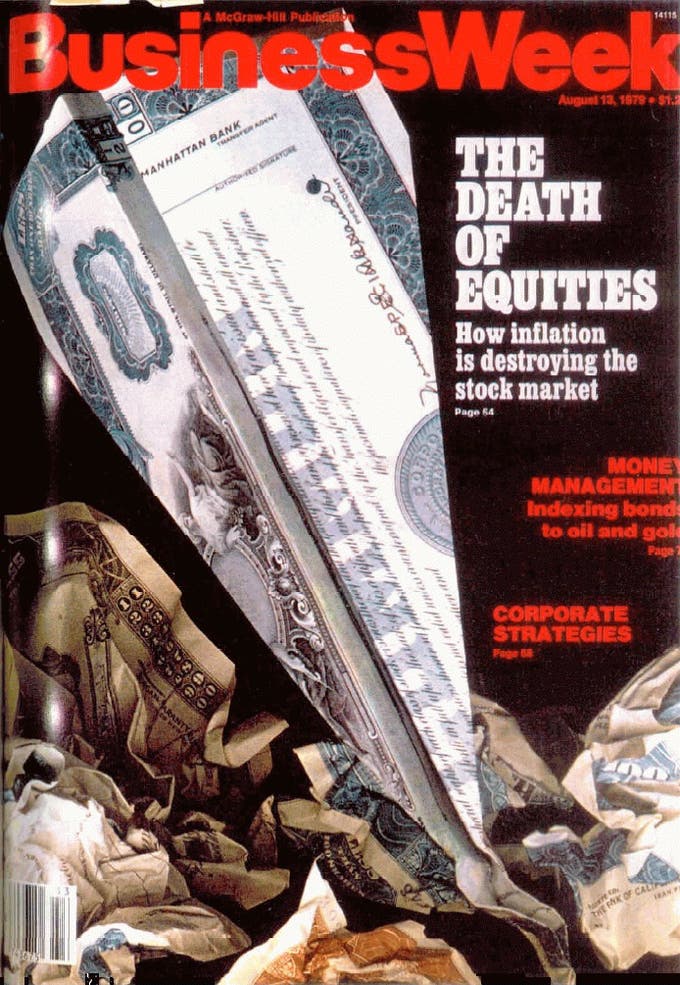 The symmetry is uncanny. At the bottom, stocks had been murdered by everlasting inflation. Today, stocks have been given eternal life by the death of inflation.
Hallmarks of Major Inflection Points
In a bizarre time warp from 40 years ago, the accompanying article, «Did Capitalism Kill Inflation?», pits capitalist villains, in their relentless drive to lower prices (a bad thing?), against central banker heroes acting tirelessly to prevent deflation and worker victims seeking higher wages. This narrative fears the current environment could last a while:
«In an April 15 presentation at the Peterson Institute for International Economics, former Secretary of the Treasury Larry Summers said the major industrial economies will be stuck with low inflation and low interest rates ‹for another 10 to 15 years, at least.›»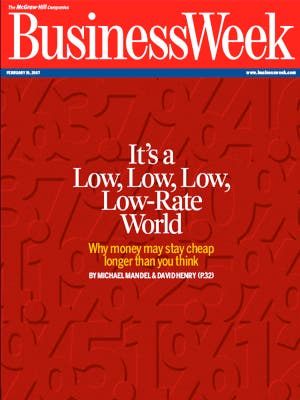 Extrapolation is a classic hallmark of major inflection points. Once a trend is in place long enough, its causes appear simple and obvious in hindsight while its continuation is assumed well into the future.
For example, at the top of the credit bubble in February 2007, BusinessWeek rang the bell with its cover, «It's a Low, Low, Low, Low-Rate World – Why money may stay cheap longer than you think»:
«Borrowers, of course, are deliriously happy. Even the shakiest companies are seeing their debt costs plunge […] Most remarkably, the craziness isn't likely to stop anytime soon.»
James Paulsen, chief investment strategist at Wells Capital Management, predicted at the time:
«This could be a prolonged cycle where the cost of capital is low [for] 10 or 20 years.»
A month later, the subprime mortgage industry imploded as stocks like New Century Financial plunged 97% in 2007's first quarter. Soon after, several high profile members of the financial establishment, including Fed Chairman Ben Bernanke, San Francisco Fed President Janet Yellen and Treasury Secretary Henry Paulson, assured investors that any problems in subprime lending were «contained.» A committee of heroes that saves the world. Hadn't we seen that before? Of course.
The previously quoted Larry Summers brings to mind his appearance on the iconic 1999 Time magazine cover, «The Committee to Save the World», which happened to pre-date the dot-com bubble top by a year.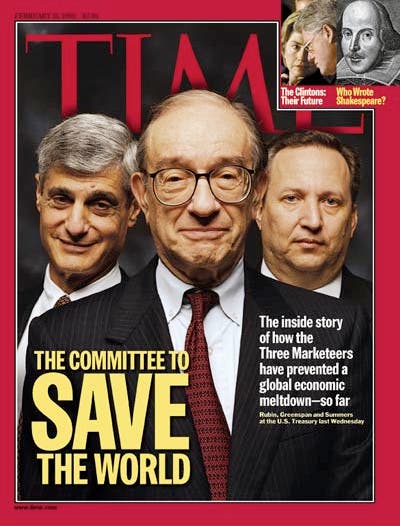 After the 1997 Asian contagion and Russia default in August 1998 which blew up Long-Term Capital Management (a highly levered hedge fund with ties to the global financial elites whose $1.4 trillion bet nearly took down the financial system), «pragmatists» like Fed Chairman Alan Greenspan and Treasury Secretary Robert Rubin, a.k.a. «Mr. Bailout», rode to the rescue with monetary stimulus, financial bailouts and systemic safety nets.
Time gushed about their interventions:
«The current boom is as much a part of the committee's legacy as is its battle to stem global turmoil […] The men don't get all the credit for the boom – they're the first to say all they did was let the markets work – but on both Wall Street and Pennsylvania Avenue, they get the bulk of it. Their success has turned them into a kind of free-market Politburo on economic matters.»
The die was cast for the boom-bust cycle of the next 20 years, though the committee's reputations failed to make it through unscathed. Alan Greenspan ended up with his fingerprints on two financial bubbles. Robert Rubin took employment as an executive and board member of Citigroup from 1999 to 2009, while pocketing $126 million in total compensation. Meanwhile, stockholders suffered an 87% loss on his watch during the 2008 meltdown.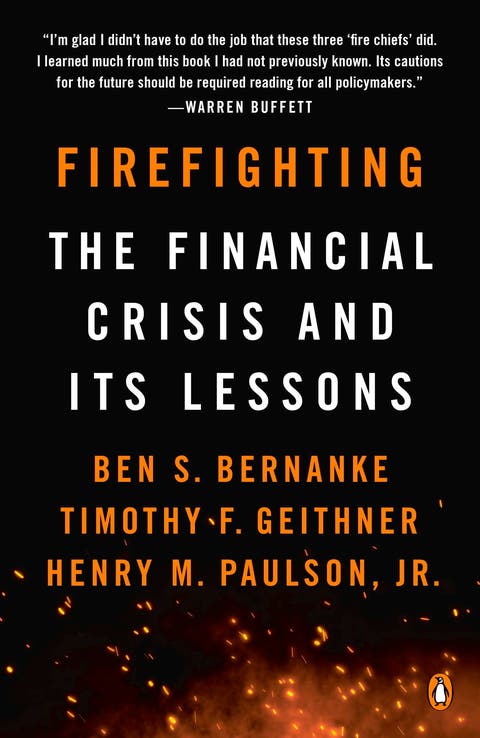 Booms hide a multitude of sins, of course, and all is forgotten if not forgiven. The three chief architects of the 2008 financial bailouts, Ben Bernanke, Timothy Geithner and Henry Paulson, just authored a self-congratulatory book for having had the courage to act.
In mid-April, Larry Fink, CEO of $6.5 trillion asset manager BlackRock, told CNBC viewers the conditions are ripe for a «melt-up» in stock prices.
The everlasting boom?
On JPMorgan Chase's 1st quarter conference call, CEO Jamie Dimon gave his blessing to the never-ending economic expansion:
«Do you have to have a recession?. […] The consumer's in good shape, the balance sheet's in good shape, people are going back to the workforce, companies have plenty of capital. […] business confidence and consumer confidence are both high. […] So it could easily go on for years. There's no law that says it has to stop.»
The future may be unknowable, but we cannot avoid making educated guesses about its course. Profit opportunities are often less about being right than avoiding the errors of the multitudes.
We all take our turn in the foresight barrel of looking foolish. But with the financial masters of the universe in such a giddy mood and looking like geniuses, perhaps it is time to consider the downside.